Outdoor Recreation

...
THIS is your year to get out and explore the great outdoors. Our NATIONAL PARKS are celebrating 100 years of protecting what GOD gave us to enjoy!
DuPont State Forest
---

DuPont State Forest consists of more than 10,000 acres of forest, trails, and waterfalls. It is located between Hendersonville and Brevard, North Carolina. The original 7600 acre forest was established in 1996 through a generous bargain sale from the DuPont Corporation. In 2000, the Forest was expanded by two property additions, including the spectacular 2200 acre tract in the center of the Forest containing High Falls, Triple Falls, and Bridal Veil Falls.
The DuPont State Forest lies in an upland plateau of the Little River valley, with large sections of gently rolling land bordered by moderately steep hills and mountains. Most all of the ridges have exposed granite slabs and domes. Elevation ranges from 2300′ below Hooker Falls on the Little River to 3600′
on the granite dome of Stone Mountain. Except for 21 small wildlife clearings, hundreds of acres of exposed granite, and a former camp facility on Lake Julia, the entire property is forested, mostly with young to medium aged trees, dating back to fires, farms, and forestry operations in the middle part of this century. Though sections of the property are white pine plantation (especially the Flatwood near Guion Farm), most are mixed with hardwoods gradually succeeding the softwoods.
The Little River flows through the Forest and there are four major waterfalls on the Little River, and several smaller waterfalls on the Grassy Creek, which drains a large portion of the eastern part of the Forest.

General Information: www.dupontforest.com or 800-692-2929 or Inn on Church 828-696-2001
Walking Trails
---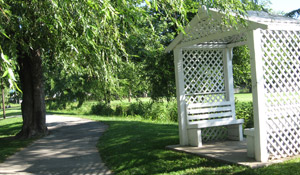 Here in North Carolina, close to the Inn on Church, we have many walking trails that are simply lovely.
Hiking Trails Near Hendersonville
---
Located close to Dupont National Forest, Inn on Church provides lodging and food close to many hiking areas.
OTHER HIKING TRAILS WITHIN A 20 MILE RADIUS OF HENDERSONVILLE NC


Name
Near
Distance
Elev Gain
Turkey Pen Gap Trail

9.2 miles away

5.7 miles

2600 ft

Mountain Views, Lush valleys, Long walk beside the river
Max Patch – Long Loop

9.6 miles away

4 miles

1400 ft

Nice hike along a treeless summit of rolling hills.
Stone Mountain Hike

9.9 miles away

3.83 miles

1100 ft

360 Deg. Views in winter, Great colors in fall, Good Exercise
Pink Beds Trail

10.3 miles away

4.5 miles

500 ft

Nice, relatively flat hike along stream bed, Numerous clearings.
Fletcher Creek Loop

10.4 miles away

6.5 miles

1236 ft

Wildflowers, Good Exercise, Picturesque Native Trout Stream.
Graveyard Fields Loop

10.6 miles away

3.19 miles

564 ft

waterfalls, easy hike, good exercise
Garenflo Gap to Hot Springs

11.5 miles away

6 miles

1500 ft

Wooded, yet nice vistas and AT shelter
Three Falls Hike

12.1 miles away

2.4 miles

250 ft

Waterfalls, Beautiful River Views, Good Exercise
High Falls,Triple Falls Hike

12.1 miles away

2.25 miles

431 ft

Beautiful set of waterfalls, multi use area, superbly maintained trails
Bent Creek Lake Loop

12.2 miles away

1.5 miles

150 ft

Lake Views, Wild Flowers, Wildlife, Fall Color
Pump Gap Loop Trail

12.8 miles away

3.5 miles

2000 ft

Wooded up hill hike that eventually connects with AT and Lovers Leap.
Appalachian Trail – North of H

12.8 miles away

10 miles

1800 ft

Scenic views from fire tower, open grassy areas, wooded trails
Laurel River Trail

13.7 miles away

7 miles

300 ft

Nice hike along a very scenic whitewater rive, ruins and swimming
Rim of the Gap – Pinnacle Pass

15.9 miles away

5.2 miles

2488 ft

numerous streams, great outcrop, challenging trail
Pink Beds Loop- short version

15.9 miles away

3.1 miles

300 ft

Level loop, nice cool hike, lots of streams, beautiful mtn laurels when in bloom
Ishi,Pinnacle Pass Loop

15.9 miles away

5.5 miles

1687 ft

Strenuous Hike, Excellent Forest, Great Views
Lake Imaging

17 miles away

3.8 miles

202 ft

small lake, hike,bike,horseback,beautiful hardwood forest
Triple Falls Loop

17.1 miles away

3.5 miles

300 ft

Beatiful waterfalls, wooded trail.
Cat Gap – Horse Cove Loop

17.3 miles away

5.1 miles

1062 ft

Views From John Rock, Wildlife, Exercise
Raven Cliff Falls- Suspension

17.8 miles away

6.5 miles

1000 ft

Rhodendron, Mountain Laurel, established trees, beautiful waterfall
Pleasant Ridge Nature Trail

17.9 miles away

0.7 miles

109 ft

interperative trail, great stream and small waterfalls
Ceasears Head Hike

18 miles away

7.3 miles

2500 ft

4-5 hr hike covering 2 waterfalls, scenic vistas, suspension bridges, etc.
Bridal Veil Falls Trail

18.2 miles away

5 miles

300 ft

Scenic hike along wooded-river trail to Bridal Veil Falls.
Shining Creek-Art Loeb-Old But

18.2 miles away

8.4 miles

2950 ft

Wonderful S. Appalachian creek and cove, Shining Rock, and views galore.
Lake Dense

18.8 miles away

3.5 miles

140 ft

Vast variety of trails, beautiful lake, outstanding river
Source: http://www.localhikes.com/
Biking & Mountain Biking Trails
---
30 Western North Carolina is legendary for its mountain biking trails with DuPont State Forest ranking high among professional bikers. There are also several family fun bike trails in the area.
Family Fun Bike Trails
Mountain Biking Trails
Western North Carolina Mountain Biking Trailheads Federal Lands
Pisgah National Forest
Big Ivy (Coleman Boundary)
Hot Springs
Nantahala National Forest
Tsali
Jackrabbit Mountain
Hanging Dog
US Army Corps of Engineer
W. Kerr Scott Reservoir
Overmountain Victory Trail
Fish Dam Creek Trail
Warrior Creek Trails
Overmountain Victory Trail
State Lands
Public Golf Courses & Resorts
Golf in the Blue Ridge Mountains near Asheville NC
---
This area of Western North Carolina near Hendersonville & the Greater Asheville Area has several public golf courses and golf resorts where visitors and the general public can play a round of golf.
Chimney Rock State Park
---
Chimney Rock Park is known for its breathtaking views, Hickory Nut Falls, Hiking, bird-watching, and rock climbing. Chimney Rock at Chimney Rock State Park is located in Chimney Rock Village near Lake Lure in the NC mountains. Just 25 miles southeast of Asheville, NC, the Park is nestled in Hickory Nut Gorge between the towns of Lake Lure and Bat Cave. The Park welcomes leashed and vaccinated pets.
Great Smoky Mountains National Park
---
Great Smoky Mountains National Park is a hiker's paradise with over 800 miles of maintained trails ranging from short leg-stretchers to strenuous treks that may require backcountry camping. But hiking is not the only reason for visiting the Smokies. Car camping, fishing, picnicking, wildlife viewing, and auto touring are popular activities.